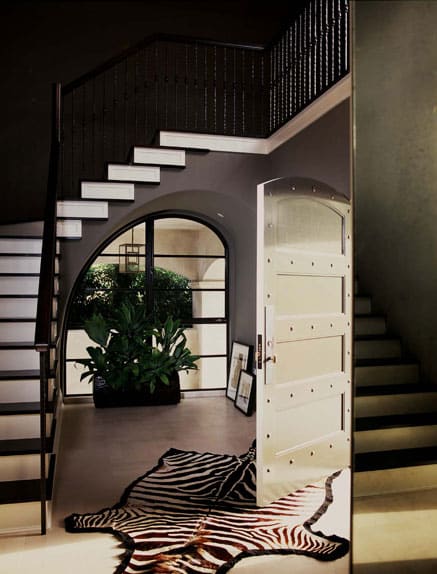 18 des

Sebrateppe foran trappen i hallen – elegant inngangsparti
Sebrateppe i elegant inngangsparti med trapp
I de siste årene har sebramønster vært populært. Produkter med påtrykkede dyremønstre er også veldig i vinden. Skinn med sebramønster er veldig populært og kan kjøpes for en billig penge, men det er ikke helt det samme som et ekte sebraskinn. Et inngangsparti med et ekte sebrateppe er klassisk, luksuriøst og staselig. Du har muligheten til å handle ekte sebraskinn fra oss om du ringer oss, sender oss en e-post eller bestiller direkte i nettbutikken vår.
Jeg har hørt det er sagt at det ikke finnes to like sebraskinn, og det stemmer faktisk. Akkurat som med fingeravtrykk og snøkrystaller har naturen gitt sebraene helt unike mønstre. Vi har vært mye på safari i Namibia, Botswana, Zambia og Sør-Afrika, og har til gode å se to helt like sebraer selv om vi har sett tusenvis av sebraer i enorme flokker på vandring. Det er et utrolig flott syn å se dem på savannen.
Inngangsparti med luksusriøs stil
Det bringer Afrika og naturen hjem når du har et sebraskinn i hjemmet.