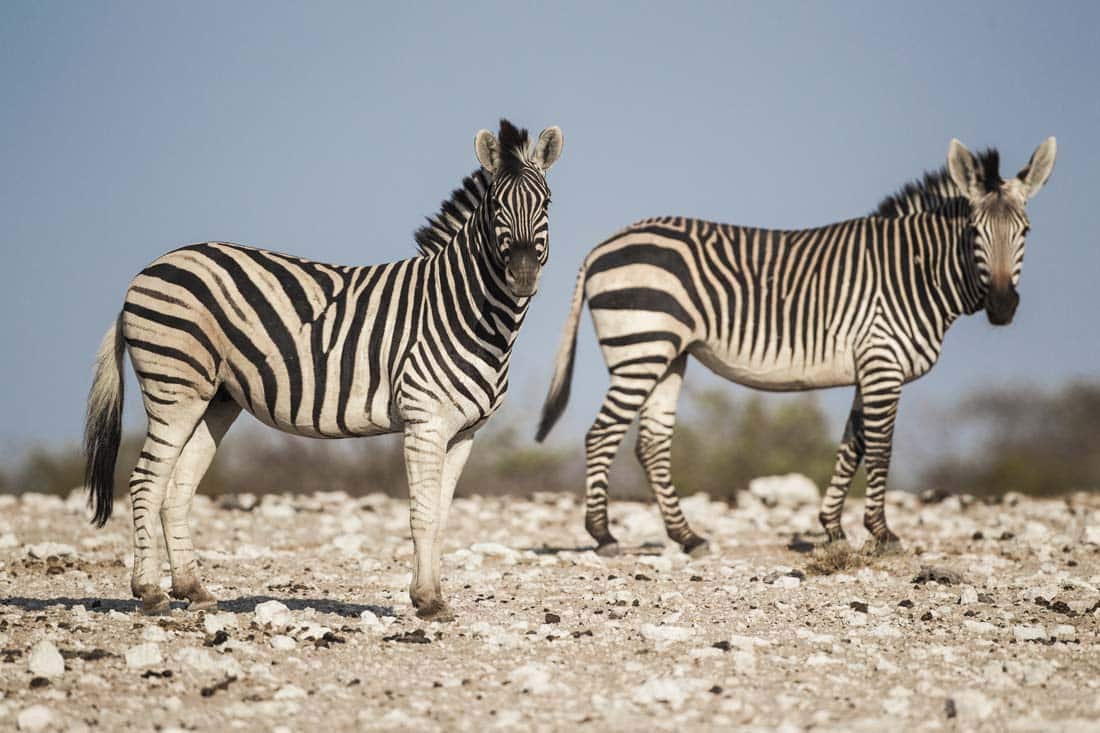 07 okt

Nye burchells sebraskinn har ankommet fra Namibia

Vi hadde ikke skinn på lager i flere måneder på grunn av corona-pandemien. Men etter lang tid åpnet det seg et vindu slik at vi fikk tak i en leveranse fra Namibia. Hartmans var ikke tilgjengelig for eksport i år på grunn av en ekstrem og vedvarende tørke. Men vi fikk Burchells sebraskinn. De er litt dyrere og på grunn av pandemien og dens ringvirkninger på flytrafikk og transportkostnader har vi økt prisen litt, men ikke like mye som vi har hatt økte kostnader.

For å vise forskjellen på de to typene, har vi satt sammen den følgende informasjonen slik at du skal vite hva vi har og hvor de kommer fra.

Sebra (zebra) er egentlig et paraplynavn for tre nålevende arter i hestefamilien. Disse relativt store pattedyrene er kjent for sin stripete pels. Tidligere ble artene gjerne beskrevet i en rekke underarter, men ny kunnskap har endret på dette. I dag er det derfor bare bergsebra som beskrives i to distinkte underarter.
Fjellsebra (Equus zebra hartmannae/Hartmans), også kalt bergsebra, utbredt i Namibia, Angola og Sør-Afrika
Grevysebra (Equus grevyi) utbredt i det sørøstre Etiopia, Kenya og Somalia
Steppesebra (Equus quagga burchelli/Burchells) er utbredt i sørøstlige Afrika fra Etiopia til Sør-Afrika.
Siden vi importerer fra Namibia får vi fjellsebra (Hartmans) og steppesebra (Burchells)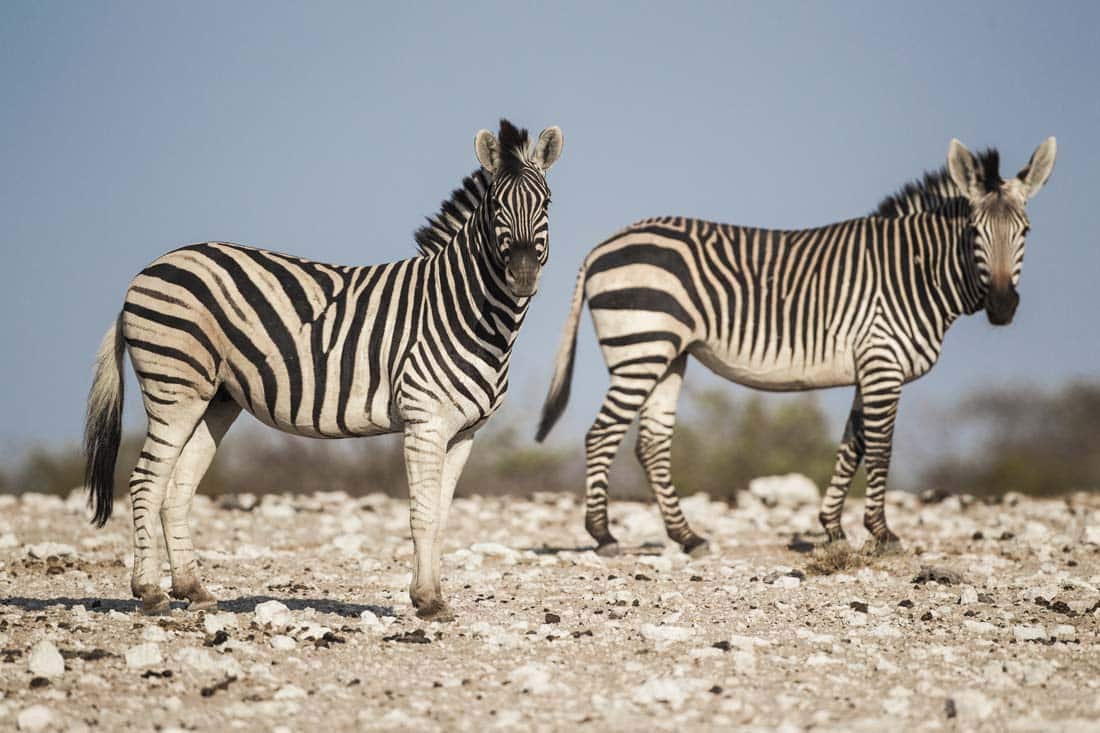 Hartmans fjellsebra (Equus zebra hartmannae)
Hartmanns fjellsebra lever oppe i fjellene istedenfor på den afrikanske savannen. Som alle andre sebraer har den et unikt mønster av svarte og hvite striper. De hvite feltene er ikke helt hvite, men har en del beige i seg. Dette er helt vanlig og slik sebraskinn er. Typen mønster er unikt for Hartmanns, slik det også er for Burchells. Se bildet for sammenligning. Alle Select Grade skinnene kommer med hode med man og hale.
Hartmanns fjellsebra har ofte et flott brunskjær i det hvite mellom de svarte stripene, som gir skinnet en ekstra fin glød. Hartmanns sebra holder til i vestlige deler av Namibia, sør-vest i Angola og undertypen Cape mountain zebra (Equus zebra zebra) finnes i Cape-området i Sør-Afrika. De holder til i mindre grupper på 7-12 dyr istedenfor i store flokker slik som Burchells sebra som er den vanlige savannesebraen som lever i store flokker på den afrikanske savannen. De er gode klatrere og klarer seg fint i golde, bratte og tøffe områder.
Voksne Hartmans fjellsebraer har en kroppslengde på opp til 2,2 meter og en skulderhøyde på mellom 1 og 1,4 meter. De har en vekt på mellom 240 og 372 kg. Hartmanns er en beskyttet sebraart så jakt og handel med denne typen sebra er regulert og kan kun eksporteres med CITES dokumentasjon. Vår leverandør overholder selvfølgelig alle gjeldende lover og regler. Fordi handelen med Hartmans er begrenset og regulert er den ikke alltid tilgjengelig på markedet.
I 2019 og 2020 har det vært umulig å få tak i Hartmans sebra med god nok kvalitet til eksport på grunn av en kraftig og vedvarende tørke. 2019 omtales som den verste tørken på 100 år i Namibia, og det ser ut til at 2020 blir nesten like ille.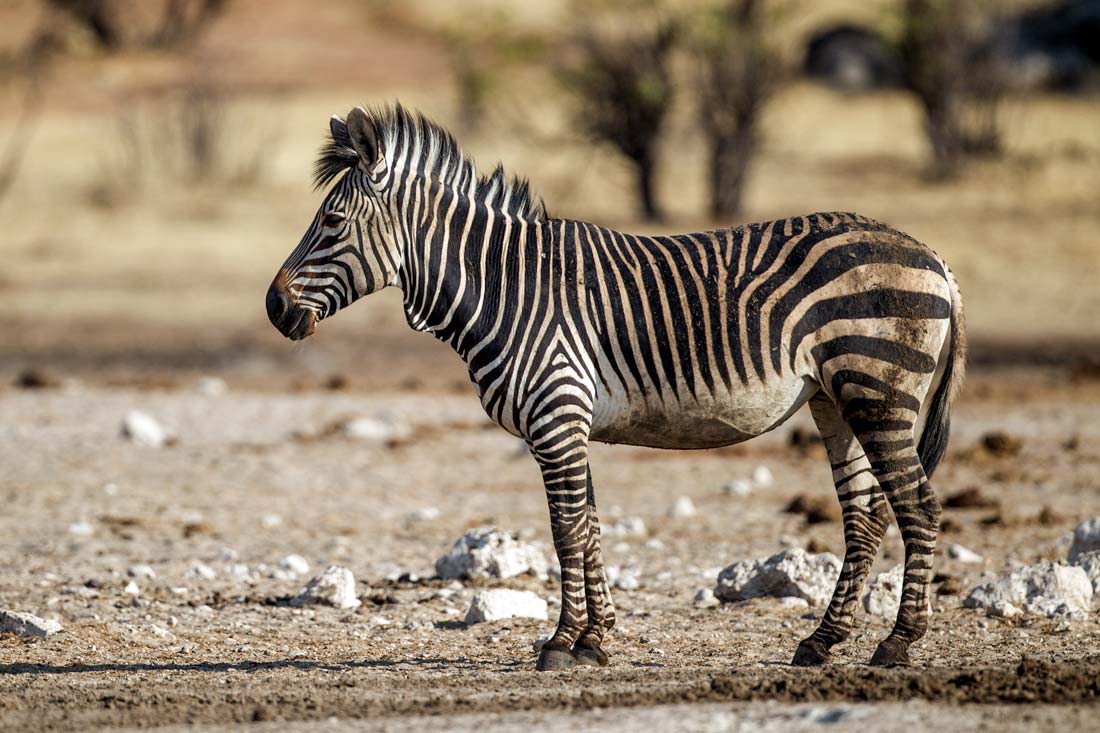 Burchells steppesebra (Equus quagga burchellii)
Burchells er en underart av steppesebra som fikk navnet sitt etter den britiske oppdageren William John Burchell. Det finnes mange varianter av steppesebra, men Burchells er den typen som oftest finnes på steppene og savannene i det sydlige Afrika. Også kalt vanlig sebra.
Den er vanligvis mellom 110 og 150 cm i skulderhøyde og veier mellom 175 og 390 kg. Burchells er veldig utbredt og er ikke ansett som en truet dyreart. Handelen med Burchells faller derfor ikke under CITES regelverket. Burchells sebra kan alltid ses i Etosha Nasjonalpark i Namibia, ofte sammen med Hartmans, som vist i bildet øverst i artikkelen. De lever i familiegrupper på opp til 15 dyr, men de beveger seg oftest i store grupper på flere hundre, eller tusen, når de er på vei til vannhull for å drikke.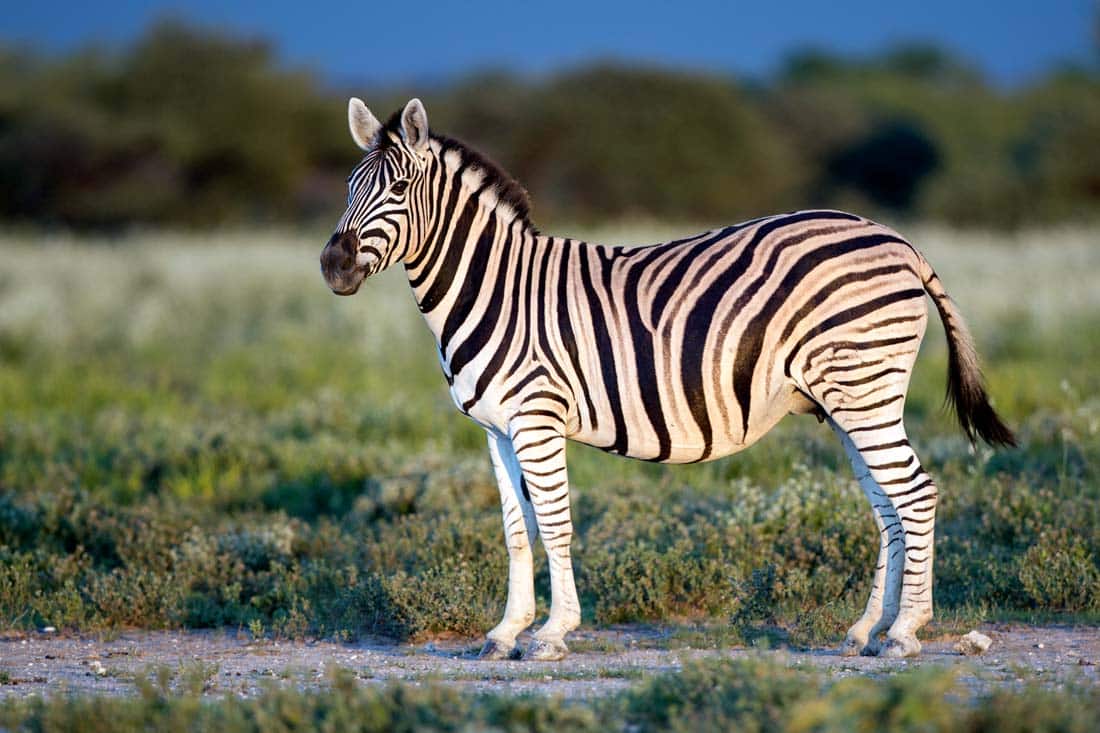 [/vc_column_text][/vc_column][/vc_row]