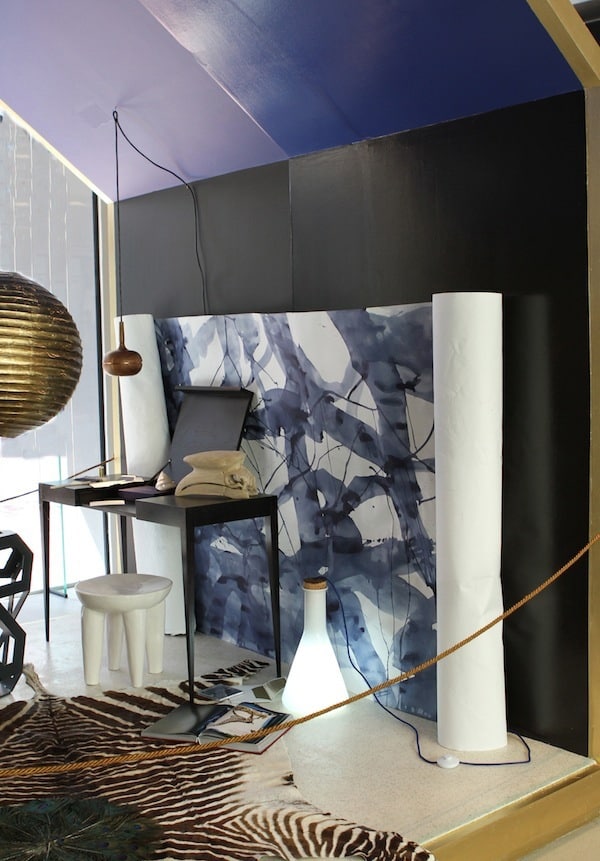 01 feb

Gullampe i den ultimate hulen for en mann – i svart, blått og gull
Gullampe: The man cave goes black & blue (and gold) all over
DECOs gjesteblogger Jaco Janse van Rensberg ble nylig spurt om å lage en installasjon som representerte den ulitmate hulen for en mann for Freeworld Design Centre for å framheve noen av produktene deres. Her ser vi litt av hvordan installasjonen ble laget og hva som var inspirasjonen bak. Og en gulllampe kroner verket sammen med sebraskinnet.
Inspirasjonen min var et nylig fotoopprag som jeg gjorde dekor og styling for, sier Jaco. Modellen var Mari Groenewald og fotografen var Antonio Stey, to av favorittene mine.
Sjarmen ved Øst-Afrika har vært et tema i arbeidene mine i lengre tid, og dette var den perfekte muligheten til å vise fram og bruke mine lokale og internasjonale favoritter, ikke minst min favorittfargepalett: indigo, elfenbenshvitt og gull. Lampen ble laget ved å legge på bladgull på en billig kiniesisk papirlampe – rimelig og chick.
Temaet mitt var Den Ultimate Hulen For En Mann så et moodboard var viktig for utvikling av ideen fram til ferdig installasjon. Jeg elsker moodboards. De er helt essentielle for prosessen, sier Jaco.
Installasjonen er en tributt til kunstnerne Yves Klein og Peter Beard. Jeg ble også inspirert av en bok jeg leste: The Night Jasmine Man av David Lambkin. Jeg elsker møtet mellom stripene i kunstverket og sebraskinnet.
Innlegget er basert på artikkelen i Elle Decoration Sør-Afrika The man cave goes black & blue (and gold) all over | Elle Decoration av Jaco Janse van Rensburg